Let's start with some history and context:
The whole nurse uniform was initially conceived thinking about hygiene and practicality.Historically nurses were women, and their uniform consisted of a dress, an apron and the well know nurses cap. Some nurses wore also a nurse's pin, identifying the nursing school they'd attended.
This is, in some countries, still the typical female nurses uniform, although there are several alternatives.With the appearance of personal watches, being fob watches (or pocket watches) or the later wristwatches, people would often get used to wearing a watch, and would sometimes feel naked when wearing no watch at all.
 Even today, people that normally wear watches are constantly looking at their wrist when they've left their watch at home.Typical fob watches allowed nurses to keep their hands busy and dirty, and still be able to use the watch, that would be hanging from their lapel.
The only problem is that without properly holding the watch on their hands, the timepiece would be upside down, making it harder to read the time, for such already busy people.
That's when the nurse's watch or "nursing watch" made an appearance. Basically, a pocket watch that is upside down and has a pin, so it can be pinned to the lapel.
This way nurses can simply tilt their head down and look at the watch, or with the back of the hand, lift it and read the time.
What to look for when choosing a nursing watch?
Comparing to wristwatches, nurse watches or lapel watches are more limited in terms of choice, but still, there are several kinds of nursing watches, with different styles, different materials, different price tags, and different features.
The choice may be driven by any of these aspects, so below you'll find some different styles, different features and different price tags, to give you an overview of what the market has to offer. Although it's possible to find some automatic watches for nurses (or even to adapt an automatic watch to be used as a lapel watch), you'll have to keep in mind that you'll need your hands to rewind it every now and then, which may end up being very unpractical.
Shape and style are also important.
While stylish and shiny watches may be good on the eye, they'll be harder to clean and sanitize in case of an accident.
There are even some watches that use special materials to prevent infections.
The last aspect that may be relevant are the watch features. Some watches will only be good to read the time, while others will allow you to read the date, or event to quickly determine someone's heart rate.
A carabiner's watch will often feature a compass, that inside an hospital may not be of great use, but may help with some field assignments, or urgency missions.
Please note that most of carabiner watches don't have a pin, only a lock, so you'll have to find a way to hook the lock somewhere, or buy a separate pin.The following list gives you some ideas of what you can buy and at what prices.
All of them are relatively inexpensive. It's also possible to adapt a wristwatch to be used as a nurse watch.
Inexpensive nurse watches (unisex)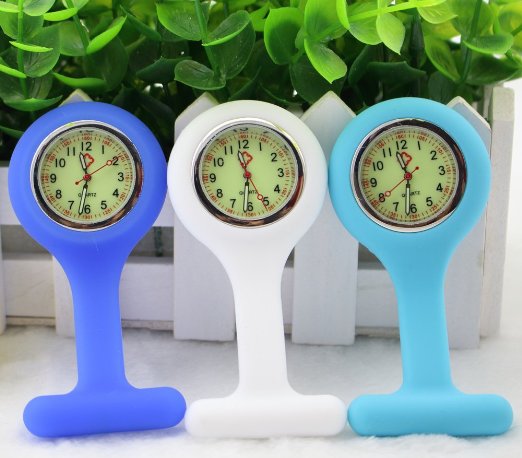 Shiny and stylish (for the ladies)
If you're looking for something shiny and stylish have a look at the two following ones:
Caravelle By Bulova 47J18 Stainless Steel Nurses Lapel Pin Watch.
Caravelle Bulova stainless steel  nurses lapel pin watch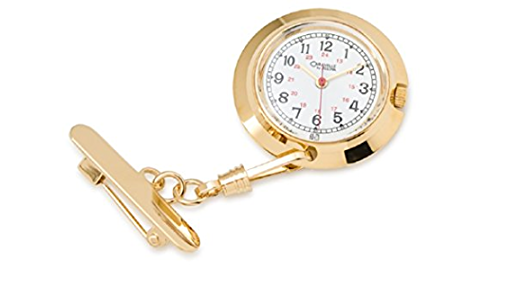 The style is undoubtedly a strong point with this watch. It's shiny and perfectly round aspect will come out of your uniform and give you a touch of class.
The dial, which is 19mm only, maybe a bit too small for tired eyes.
May also be found in gold.
  Timex Womens Classics Nurses Fob Tunic White INDIGLO Dial Stainless Steel Pin  Watch  T24601
This is a more classic watch, almost identical to a wristwatch, much because of the band design, which looks like a wrist band (well, half of it actually).
While classic in style, it still does look good, bringing sobriety and class. The case is 30mm wide, which makes it easier to read.
TimexWatchFob Tunic White

Professional (unisex)
Lorus Professional Unisex Lumibrite Nurses Fob Watch RG253CX9
 The Lorus RG253CX9 looks very professional, just as the name says. It allows quick reading of the patient's heart rate, by counting to 15 and checking the second's hand position.
Style-wise, it's very sober, the band is very well polished and the whole lumibrite dial glows in the dark. The case is 29mm wide which also makes it very easy to read, even without holding it.
---
Carabiner Watch
Style-wise, it's very sober, the band is very well polished and the whole lumibrite dial glows in the dark. The case is 29mm wide which also makes it very easy to read, even without holding it.
This 100 feet (30m) water resistant digital clip features an alarm, dual time, stopwatch and countdown, as well as a compass and it will light in the dark.
TLG LUM 35mm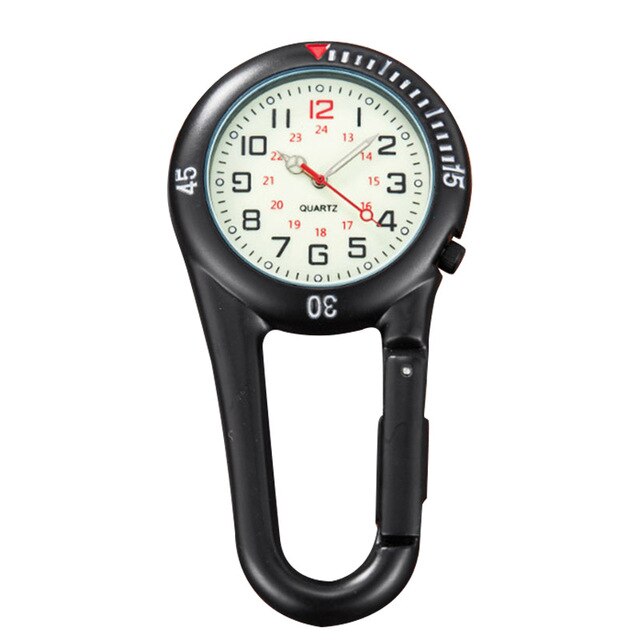 This simple carabiner watch features a glow in the dark 35mm analog dial which allows easy reading.
The design is rather simple, with a military style and focus on robustness.
TLG 35MM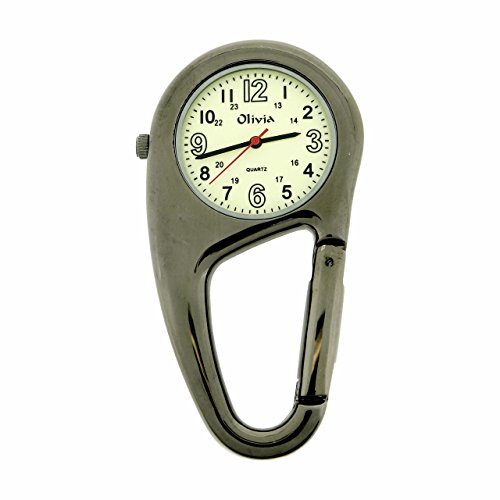 If you prefer to keep it simple, but like the carabiner style, this is a great alternative.
So, there you go. Several different watches, in style and function, with different materials and price tags. With any of them, you'll be able to read the time, but a watch is really something that we wear and we should wear what makes us feel good, so pick the one who makes you happy.